Professional Bathroom Exhaust Fan Manufacturer
Wintek is a reliable manufacturer of bathroom exhaust fans in China. Our factory has been supplying to numerous huge brands all over the world, specializing in providing OEM, ODM, and IDM services.
Advantages:
1. Qualified factory. Devoting to bathroom exhaust fans for over 20 years, we have been cooperating with many huge brands in the US. Our products are ETL certified and Energy Star, HVI standard.
2. Competitive price. Our complete cost-control system ensures our price is the best.
3. Architectural design. Round and square ABS grille, LED lighting cover, high-class brushed Nickle rim, and colorful rim are available. Adopt slim housing and easy installation design.
4. Ultra quiet. Scientific structure design minimums the noise.
5. Most advanced functions. LED lighting, humidity sensor, human motion sensor, delay timer, speed control, UV antivirus lighting, etc, and more high-end functions are achievable.
Our Products:
Benefits of Exhaust Fans:
1. Using an exhaust fan is very beneficial for the home, indoor air quality, and comfort of occupants.
Exhaust fans can quickly cool down areas that have become too hot from activities such as cooking or showering. Hot air is vented outdoors, reducing the temperature of the space without using the air conditioning system.
2. Remove moisture from the atmosphere. Remove dangerous gases or chemical aerosols from the air. Remove unpleasant or stale odors from a bathroom.
3. Exhaust fans improve indoor air quality by removing humidity, odors, and contaminants. They provide adequate ventilation for areas where these air quality-diminishing agents can build up. Stagnant air is vented out of the home, allowing conditioned air to fill the space.
Video:
How to choose a right bathroom fan?
Bathroom ventilation fans have different airflow capacities, measured in cubic feet per minute (cfm). To get the right fan for your bathroom, use the guidelines set by the Home Ventilating Institute: Your fan should have 1 cfm for every square foot of floor space in your bathroom.
For bathrooms larger than 100 square feet, figure out your cfm requirements by adding:
50 cfm for every toilet

50 cfm for each shower, bath and combo

100 cfm for each whirlpool
Fan noise is rated by sones—a scale that represents degrees of loudness. A rating of 0.5 to 1.2 sones means the fan is exceptionally quiet. Ratings of 1.5 to 2.0 sones are very good. Fans rated in excess of 4.0 sones tend to be noisy.
Motion sensor activation turns on the fan when someone enters the bathroom. The fan speed can be pre-set to a low volume to remove the moisture of everyday tasks, such as shaving, and switch-activated for high-volume tasks, such as showering.
Overhead lighting can be switch-activated or turned on by a motion sensor.
Night light equipped models to use a low-wattage light to help you find your way in the dark.
Humidity sensing ventilation fans automatically switch on when the unit detects high levels of humidity.
Built-in heaters, typically infrared heat lamps, add a little extra warmth when it's chilly outside.
Bathroom ventilation fans that earn an EnergyStar label for efficient operation must be independently certified by the Home Ventilating Institute or the Air Movement and Control Association. The standards apply to any lighting options, too. EnergyStar ventilation fans use about 60 percent less energy than standard fans.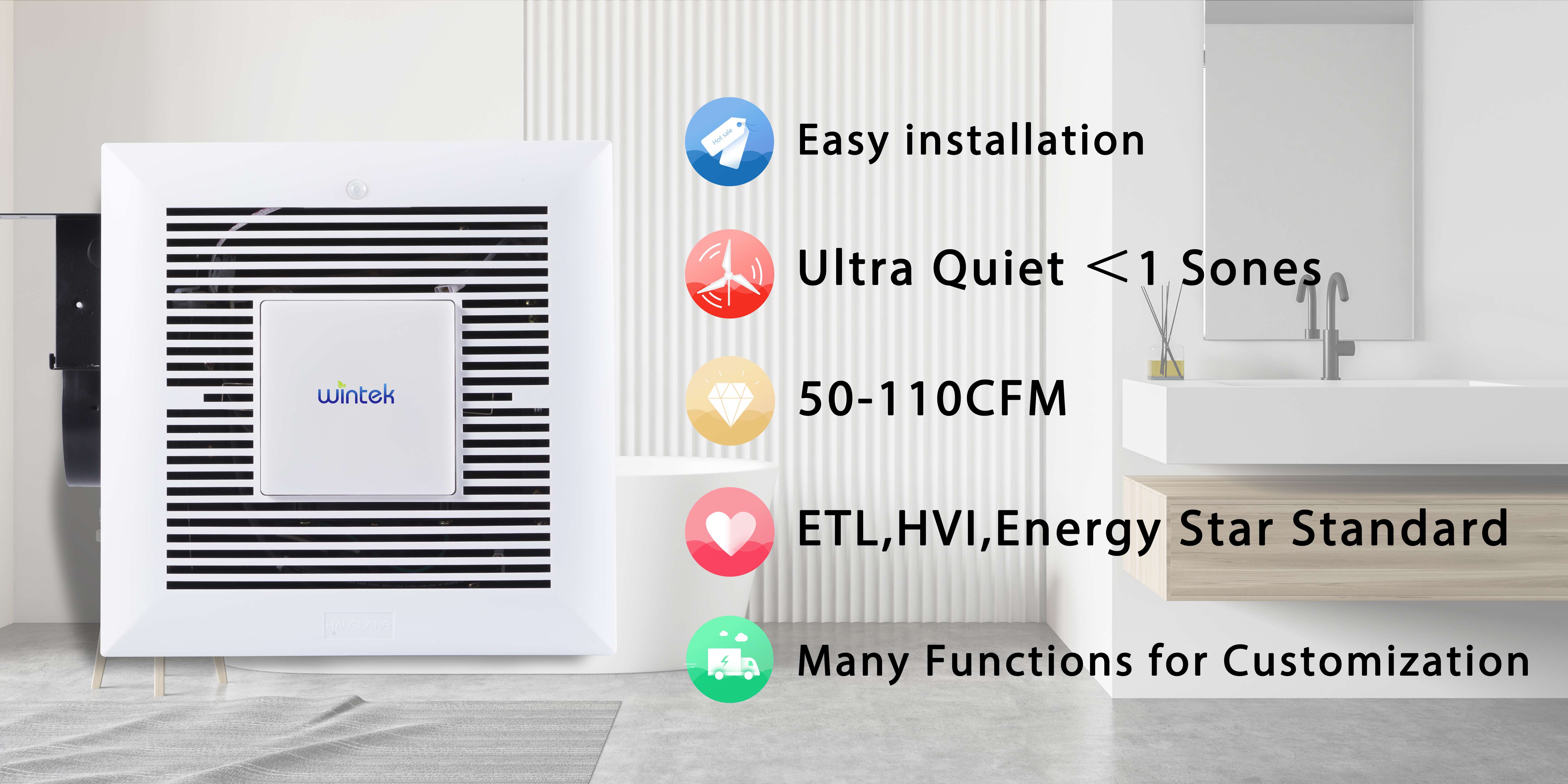 Contact Us Now
Enter your inquiry details, We will reply you in 24 hours.
Phone can't be empty
Phone
Products can't be empty
Products you want
Verification code error